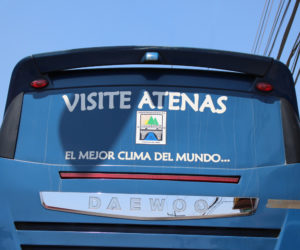 One reason for choosing the "Central Valley" area to live in my retirement in Costa Rica was the weather and more specifically Atenas is the weather, which averages around 72° year around and a National Geographic article writer once stated that Atenas has "the best weather in the world." Thus on the back of all our buses is the slogan: "Viste Atenas – Mejor Clima del Mundo." (Visit Atenas – Best Weather in the World)  No one here has air conditioner or heater in their house! I sleep under just a sheet or one blanket with all my windows open, year around. Header photo is view from my house terrace. 
For example, today's AccuWeather forecast has Atenas with a high of 79° and low of 64°:  https://www.accuweather.com/en/cr/atenas/111860/weather-forecast/111860     I formatted it for U.S. English and Farenheit temps but if it comes up Spanish and Centigrade you can change at top of page. Compare that to the U.S. weather forecast! (Rain, snow, ice)  Or here to other expat communities like cold & rainy San Ramon and Grecia or hot & humid coastal areas or smoggy San Jose .
I enjoyed visiting the ocean Christmas Week, but would not want to live there because it is very hot and humid year around. But some prefer that. And most expats who move to the coast have air conditioning in their house, a big additional expense, year around! Plus generally everything else is much more expensive there (think tourist prices) AND they are further away from the best medical care and the best shopping options.
Christopher Howard today posted on his "Live in Costa Rica" Blog an article that says even more than this about the weather here:
ONE OF THE BEST REASONS TO RETIRE OR RELOCATE TO COSTA RICA IS ITS INCREDIBLE WEATHER
¡Pura Vida!