Like in other countries when the world-wide pandemic became obvious, even in well-prepared Costa Rica, there was a bit of "panic buying" of hand sanitizers and hand soaps, emptying the grocery shelves of both (plus I still can't get Clorox or Lysol Wipes). So my grocer first filled the hand-soap shelves with "refill containers" of the most popular antibiotic hand soap made locally (Bactex). I got the limit of 2 per customer.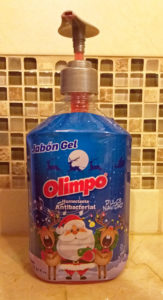 And then the following week they dug into their unsold Christmas items to bring out this "Christmas scented" antibiotic hand soap that evidently did not all sell last Christmas.   🙂   So of course I bought the limit of 2 per customer and now my very clean hands also smell like Santa Claus!   🙂
Naturally this week the shelves are now restocked with the regular antibiotic hand soaps we always had, so no real shortage, just a temporary panic wiping out of their stock, likely by a few neurotic American expats here.   🙂   And life continues in Costa Rica with hands as clean as we want them to be and even smelling like Christmas now!   🙂
See also the Tico Times Coronavirus Update article from Thursday, including the shutdown of the country for Easter Week (a really big deal here!), cars driving on limited days based on the last digit of your license plate number, a map of where all cases are located in Costa Rica and the continuation of the CLOSURES of all "non-essential" businesses by government order – pretty much everything but grocery & pharmacy. We added 28 new cases of the virus this week, bringing our total to about 375 for the whole shut-down country.
"Quédate en casa"
"Stay home"
?
"Life is ten percent what you experience and ninety percent how you respond to it."
― Dorothy M. Neddermeyer
¡Pura Vida!
Interesting Report on Coronavirus Progress in Costa Rica including police arresting people who do not follow the rules!   🙂   You auto tag number determines which days you can drive your car is one example.