I do not know a single person here in Costa Rica who has or has had the Coronavirus or died of it, but I keep seeing death of small businesses. The featured photo is of small shops closed in Alajuela on my trip there today. Typical of all over the country.
And this week I sadly report the permanent closing of one of my two favorite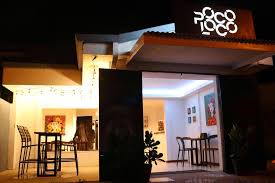 restaurants, Poco Loco ("A Little Crazy" in Spanish). He seldom had big crowds, but steady customers until the pandemic came and now there simply is not enough business (even with home delivery & "take-out" orders) to pay the expenses and he has permanently closed much to my dismay.
It was my favorite place for soup and salad (fabulous!) or almost any kind of sandwich as the best in town and he made the best Sangria in Atenas! But no more. Poco Loco is gone due people being afraid to get out of their houses now. My other favorite, Parillada Androvetto (my Friday night steak place), is still hanging on but just barely with one brother supplementing their income driving a taxi. Likewise an old favorite, Donde Bocha, is hanging on and I ate there yesterday. It's hard for a lot of people right now. But they all keep their spirits high here and continue to say . . .
¡Pura Vida!
"Hope is important because it can make the present moment less difficult to bear. If we believe that tomorrow will be better, we can bear a hardship today." 

– Thich Nhat Hanh