Above Canario Supermercado is a new little coffee shop overlooking the entrance to Atenas Mercado Central, bus station, and a busy street for people watching. See photo above. Just this one visit today and it is now in my top three coffee shops (called cafeterias here). (1) Crema y Nada, (2) Cafeteria by the church, and now (3) Cafeteria above Canario. (If the last two have names, they are not prominently displayed, but most things here are described by location as I just did.)
One of my retirement joys these days is slowly sipping 2 or 3 mugs of coffee every morning after breakfast, with breakfast or like today, after my cereal breakfast I walk to town and have a pastry and cup of coffee downtown while people watching or finishing today's Washington Post on the Kindle. This is what retirement is like for me when not traveling! And of course my favorite and most common place to enjoy morning coffee is from my own terrace as seen on this cloudy morning in the photo below.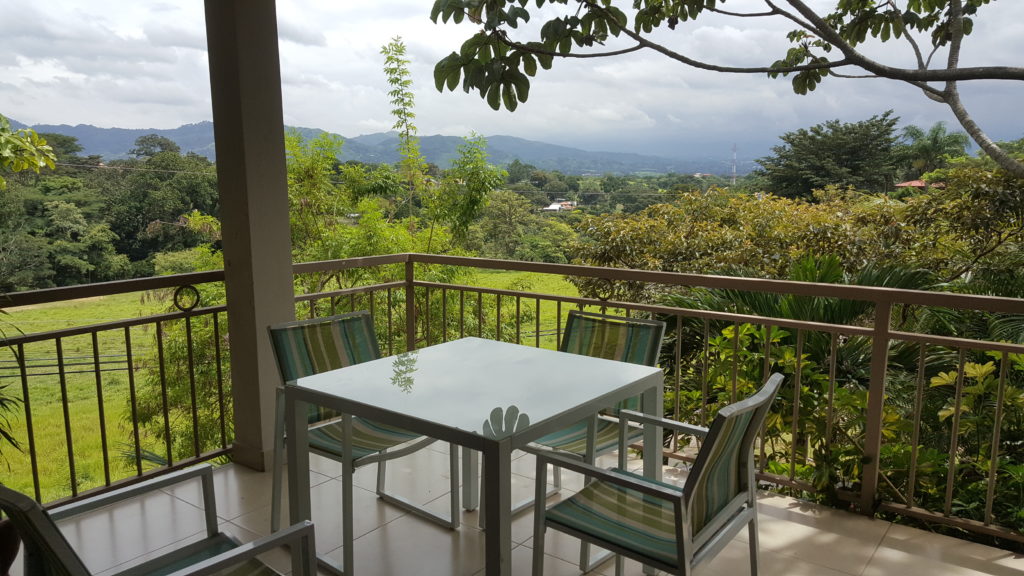 Living the Dream
¡Pura Vida!
Our Hidden Danger in Costa Rica
And for those who think I never have anything negative to say about Costa Rica (and I seldom do) I will admit that one thing here that scares me is the  Terciopelo, the Costa Rica name for what Americans call Fer de Lance snake (Bothrops asper).  (Click Terciopelo link for English article in Tico Times)  It is one of the most deadly snake bites in the world and unfortunately we have them living in my Roca Verde neighborhood. I know of two neighbors who have been bitten, both going outside in early morning barefoot (note that I will never do that). Both stepped on the snake (a sure way to get bitten!) and were rushed to the public clinic here for anti-venom shot and from there in ambulance to the public hospital in Alajuela for further treatment. They are both fine now, but it was a big scare for both with swollen leg and a lot of pain. One guy had an allergic reaction to the anti-venom and got extra allergy treatment for the hives it gave him.  See Wikipedia article on the snake.