A Costa Rican of course!
Or a Tica as we would say here. I just copied this article from another expat newsletter which you might find more entertaining than mine or at least with more humor:
The Golden Gringo Chronicles
by Bob Normand who lives in Quepos which is near Manuel Antonio National Park on the Pacific Coast.
Pura Vida!
-Charlie
What's-in-a-Word
Answer to ¿Que Es Eso?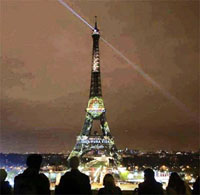 The message in blue lights on the first balcony at the Eiffel Tower that night in early December 2015 was "Pura Vida". It was done in honor of the chairwoman of the U.N. Framework Convention on Climate Change, Christina Figueres of Costa Rica (actually Karen Christiana Figueres Olsen) who organized the recent Paris summit on climate change.
Christina is the daughter of, José Figueres Ferrer, a gent who was President of Costa Rica three times (1948–1949, 1953–1958, and 1970–1974). That 1948-49 stint, of course, was at the end of the Costa Rican
civil war
and the founding of the Second Republic, the one which led to a stable, democratic government here for the last 67 years. Nice tribute to Costa Rica, Christina.
Bon hommage, bien fait Christina.