Like with every trip I make around my new home country I could keep posting about this trip and unique things about the Caribbean side of Costa Rica. But I won't. Here's some separate little slideshows on Banana Azul, my favorite hotel in Puerto Viejo so far. I may get brave and try some more hotels one of these days, though I have tried Cariblue and Almonds & Corals and they don't quite equal Banana Azul in my opinion.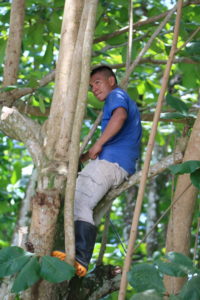 If you drill down into their website very far you will see that this is a "gay friendly" hotel which implies that a lot are not in this conservative Catholic country. I did not know that on my first visit and it would not have made a difference but it might to you, so I let you know. My casual observation and prominence of straight couples in the hotel indicates it is certainly not an exclusively gay hotel which I doubt could be profitable here. I did learn this time that the owners are two gay men from Canada whom I have still not met. The staff appears to be mostly straight, though can you really tell by looking at someone? I know my masseuse is straight because he told me about his daughter and the difficulties of going through a divorce with which I of course identified.
Anyway, the location right on the beach is perfect. The facilities are very good if basic and immersed in nature, and the service is better than most places plus their food is better than the other two hotels I've tried in the area. There is a new hotel in Puerto Viejo that claims to be upscale and have gourmet food which I may try someday, Le Cameleon, though it costs twice as much!
And I know that "Tree Trimming" doesn't sound like an exciting activity for a slideshow, but in Costa Rica a Tico with a machete climbs a tree and wacks away. Yes, they have saws here, but this is just the way it is done, including when my trees are trimmed.  Hotel slideshows:
My Room – The Howler Suite
This slideshow requires JavaScript.
Banana Azul Hotel staff
This slideshow requires JavaScript.
Banana Azul Hotel Grounds
This slideshow requires JavaScript.
Maintenance Tree Trimming
This slideshow requires JavaScript.
Beachside Wilderness Road
This slideshow requires JavaScript.
See my TRIP Photo Gallery:   2018 Caribe South, Puerto Viejo  for many other kinds of photos from this fun trip with these Sub-Gallery Names:
BIRDS
OTHER ANIMALS
Banana Azul Howler Suite
Banana Azul Staff
Tree Trimming
Gandoca-Manzanillo Refuge
Mirador Manzanillo
Beaches
Surfers
Waterfall Jumpers
Bribri Indigenous Village
Biking Puerto Viejo
Walking Puerto Viejo
Beachside Wilderness Road
And for more on the South Caribe see these other past trip galleries:
And what about North Caribe?
When you are talking about the Caribbean side of Costa Rica, remember that there are two other parts not included above:  (1) The port city of Limon which I generally avoid with its high-crime reputation like the Pacific Coast port city of Puntarenas where my first camera bag was stolen.  And  (2) one of my favorite places, in the North Caribbean, Tortuguero, "The Amazon of Costa Rica." I'm returning there in February and trying a new hotel/lodge. See photos of my 2016 visit there and I even had an earlier one in 2010 on the Caravan.com Tour. A real jungle adventure!