The general address for my Butterflies & Moths of Costa Rica stays the same, but all the sub-galleries or individual butterfly galleries will unfortunately have new web addresses. This is because I want this gallery to be scientifically accurate to match my volunteer work with butterfliesandmoths.org. Thus each of nearly 200 individual butterfly galleries will be titled with their common name and sub-titled in smaller letters with their scientific name. Then they have been placed in folders or family galleries according to their taxonomy. Thus the first level of galleries you see on the first screen image below are the families such as Hesperiidae – SKIPPERS (35+) or the largest family in my collection is Nymphalidae – BRUSHFOOTS (79+). The individual butterfly galleries are presented inside these family folders in the taxonomic order found on butterfliesandmoths.org, making my gallery a good research tool for anyone doing research on butterflies and moths in Costa Rica! 🙂 The bad part is that all my old blog posts (before yesterday's) that have a link to an individual butterfly gallery – that link will no longer work! So sorry! But that is the cost of scientific accuracy. Before I just had them arranged alphabetically by common name – not the best way! 🙂 To check out my Costa Rica Butterfly & Moth Photo collection, click the first page image below or go to this address: https://charliedoggett.smugmug.com/Butterflies-Moths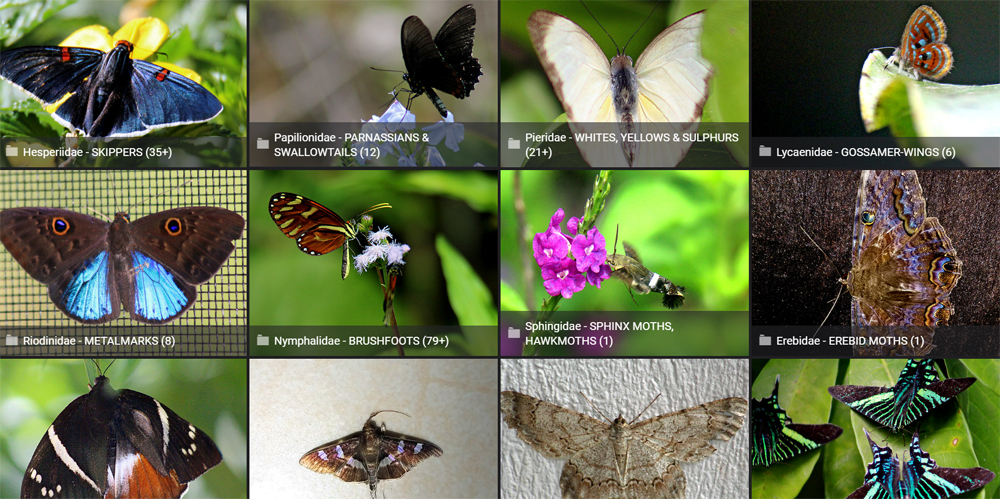 I have one of, if not the largest collections of Costa Rica Butterfly photos online that I know of at about 200 species. Before getting involved in the butterfliesandmoths website, my primary source was and still often is the excellent book A Swift Guide to Butterflies of Mexico and Central America by Jeffery Glassberg.
And I could say the same things about my CR Birds Gallery which has about 360 species and has always been arranged in taxonomic order by families based on the order found in Princeton Field Guide: Birds of Central America, my preferred bird guide now, other than eBird online.
¡Pura Vida!